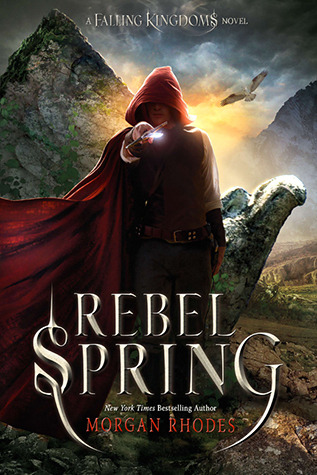 Rebel Spring by Morgan Rhodes
Published Dec 3rd, 2013
By Razorbill
Audio book on Hoopla App
Narrated by Fred Berman
Synopsis
The road to power… is paved with blood and magic.
Cleo is now a prisoner in her own palace, forced to be an ambassador for Mytica as the evil King Gaius lies to her people.
Magnus stands to eventually inherit the new kingdom but is still obsessed with his feelings for his adopted sister, Lucia.
Lucia is haunted by the outcome of the breathtaking display of magic that allowed her father to capture the kingdoms.
Jonas watched at the palace gates a troop of rebels behind him, waiting for him to tell them how he plans to overtake King Gaius.
After a bloody siege, Auranos has been defeated, its young queen orphaned and dethroned. The three kingdoms—Auranos, Limeros, and Paelsia—are now unwillingly united as one country called Mytica. But the allure of ancient, dangerous magic beckons still, and with it the chance to rule not just Mytica, but the whole world over…
At the heart of the fray are four brave young people grappling for that magic and the power it promises. For Cleo, the magic would enable her to reclaim her royal seat. In Jonas's hands, it frees his nation, and in Lucia's, it fulfills the ancient prophecy of her destiny. And if the magic were Magnus's, he would finally prove his worth in the eyes of his cruel and scheming father, King Gaius, who rules Mytica with a punishing hand.
When Gaius begins to build a road into the Forbidden Mountains to physically link all of Mytica, he sparks a long-smoking fire in the hearts of the people that will forever change the face of this land. For Gaius's road is paved with blood, and its construction will have cosmic consequences.
My Thoughts
Yep that sums it up pretty well!
This second installment of the Falling Kingdoms series was a roller coaster ride. So many ups and downs, twists and turns. I really am enjoying them on audio book but there is only the first two on my Hoopla app. That's ok though because I have the next two sitting on my shelf.
There are a lot of people that didn't like this second book and I can see where they are coming from. It does seem to drag a little bit more than the first but I loved it. The character developments are chugging right along and the plot just keeps getting juicier. We are introduced to new characters in this book, my favorite being Lysandra. She joins the rebel cause after her village is attacked by the king's guards.
Jonas is still on his mission to find Aron and kill him. Now he is the leader of the rebels fighting against the building of the King's Road because they are using his people to build it. Lucia has been in a coma since she used her magic to blow up the castle door. Now her father is going to use her magic to make him even more unstoppable. I like her character a lot. She was very innocent and just a princess in the first book but now that her powers have grown exponentially she is becoming more of a badass. She just needs to find a way to control them better and Cleo maybe the key.
Cleo and Magnus are still my favorite two characters and the things that they both face in this book are crazy, especially Cleo. She is such a great character and I root for her with every page. For someone who is only 16 and now the rightful queen in her own country, to have to face the things that she does is just so amazing and very brave. Magnus is still dealing with his inner demons but his shell seems to be breaking down a little.
So many plot twists happen that this is usually how my brain feels after reading them.
Morgan Rhodes is an amazing writer and I love the way she is able to capture you from the first page. I am going to continue this series!