Hey guys I am back with my November TBR. I am only going to put 4 books on this list because my little man is due any day. I didn't want to go crazy with the stack. So I decided to go with a theme that I know I will enjoy reading…ready…
I love a good fairy tale retelling especially if it is one of my favorite stories. So I went down to my local library and picked up 3 books by the same author because I knew that's what she writes. Also Bekah Awesomebooknut on Youtube suggested these books in several of her videos especially the first book. If you haven't seen her videos where have you been. She is one of my favorite booktubers to watch and I believe I have seen every one of them. Bekah is also very sweet and is an awesome mom so I can relate better with her than some of the others. Ok enough fangirling….on to the books.

I received a digital copy of this book through Netgalley and I have already started it. It is a retelling of The Phantom of the Opera. This book does not come out until Jan 10, 2017.
Graceling meets Beauty and the Beast in this sweeping fantasy about one girl's journey to fulfill her destiny and the monster who gets in her way-by stealing her heart.
I loved Graceling and Beauty and the Beast is my all time favorite fairy tale. I started reading this book as soon as I got back in my car from the library. This is the first book in the Cruel Beauty Universe.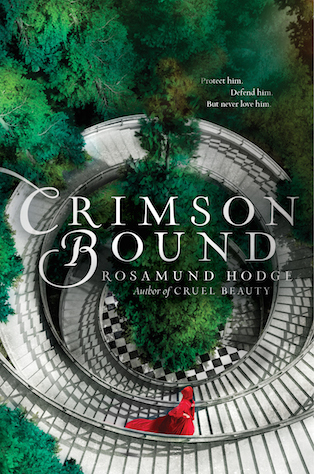 Inspired by the classic fairy tale Little Red Riding Hood, Crimson Bound is an exhilarating tale of darkness, love, and redemption.
 I am absolutely in love with this cover!!

This is the one that captured my eye at the library. Omgosh these covers!!! I didn't want to read the synopsis of this one but on the back all I saw was the name Juliet and I had to get it because it is a retelling of Romeo and Juliet!!!!
I hope you enjoyed my little TBR pile for the month. I know when the baby gets here I am not going to want to do anything but snuggle him.
Don't forget to check out Bekah's YouTube page and also her blog. Links down below!!!
Bekah The Awesome Book Nut