*found this image through Google*
I can not believe that it is already April, can you? This year is going by way to fast. I did not meet my mark for books read for March. (Bad Bookworm) All of the books that are in this TBR are all from my Author's Shelf, which are books that were given to me for review. Yes they have their own shelf!! So with out further ado here are the books….
~~~~~~~~~~~~~~~~~~~~~~~~~~~~~~~~~

Frey's life is a lie. She doesn't remember being bound from magic. She didn't intend to get entangled in Council business.
But she did.
And now she's on the run. As the Council trackers pursue her, Frey discovers a world beyond their lies. With the aid of a stranger, she fights to reclaim her true identity before the others hunt her down. If they find her, she will burn.

STEP INTO THE FOLD.
IT'S PERFECTLY SAFE.


The folks in Mike Erikson's small New England town would say he's just your average, everyday guy. And that's exactly how Mike likes it. Sure, the life he's chosen isn't much of a challenge to someone with his unique gifts, but he's content with his quiet and peaceful existence.  
That is, until an old friend presents him with an irresistible mystery, one that Mike is uniquely qualified to solve: far out in the California desert, a team of DARPA scientists has invented a device they affectionately call the Albuquerque Door. Using a cryptic computer equation and magnetic fields to "fold" dimensions, it shrinks distances so that a traveler can travel hundreds of feet with a single step.
The invention promises to make mankind's dreams of teleportation a reality. And, the scientists insist, traveling through the Door is completely safe.
Yet evidence is mounting that this miraculous machine isn't quite what it seems—and that its creators are harboring a dangerous secret.  
As his investigations draw him deeper into the puzzle, Mike begins to fear there's only one answer that makes sense. And if he's right, it may only be a matter of time before the project destroys…everything.  
(This one has an awesome giveaway and blog tour coming in June!!)
When Kit skipped town, she wasn't planning to get pressed into a secret training camp or pulled into an ancient war. Now she's just fighting to get home alive. Fans of The Hunger Games will devour this fast-paced fantasy that critics are calling "a thrilling head-rush of an adventure"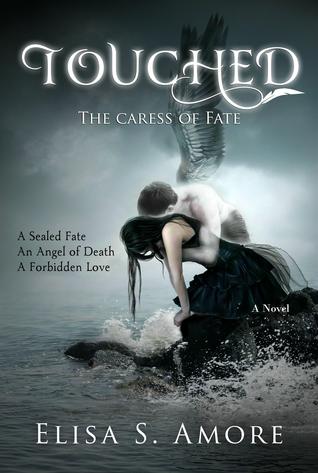 What are you willing to sacrifice when the only person who can save you is the same one who has to kill you?
After vampires and werewolves, after wizards and fallen angels, a new breed of Angels is here to usher you into their dark world. An ancient, deadly, inescapable race.
No one can see them. They're shadows of destiny. They're knights of death. They're the Subterraneans and they're here to claim our lives.
Commanded by a mysterious congregation called the Màsala, the Angels of Death ensure that each man's destiny takes its due course on Earth.
But what happens when love intervenes?
Can an Angel of Death deny his own nature and challenge destiny?
Can love rebel against fate?
When Gemma's eyes first meet the dark, piercing gaze of Evan James, an ominous shadow creeps into her life, ultimately leading her to face her destiny. She doesn't realize Evan is one of Death's soldiers and that Death is summoning her.
Her time is up: Gemma must die . . . and Evan has been sent to kill her.
But what if she's the only one who can truly see him?
Against every rule. Against fate itself. Against everything and everyone. A story of forbidden love and star-crossed destinies.
Dark. Romantic. Dangerous.
Look To The Stars by Catherine Wilson
Tucked away in the remote territory of Ashen, Penelope Brave lives an ordinary, sheltered life until the day her papa goes missing. No one seems intent on finding him but her, so she breaks the rules… and ends up changing her world. When strangers from the northern kingdom of Orien arrive with news of her papa, but at a price, Brave learns that even the quiet city of Ashen has its secrets—the darkest of which just might be her.
Forced to trust the help of Aras Renn, the arrogant and regrettably handsome guard from Orien, Brave soon finds that if she wants to see her papa again, she's going to have to face a past she never knew she left behind. Together, they're thrust into a world of magic, lies, and hidden truths as Brave discovers there's a deadly war brewing in the north. What she doesn't know is the answer to each side's victory can be found in her heart…
Determined not to follow the destiny the stars have laid out for her, Brave sets out to make her own, embarking on a harrowing journey where she must decide what matters most. Love or blood?
WHAT ARE YOU READING THIS MONTH??