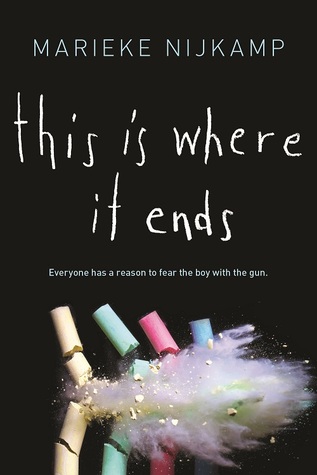 This is where it ends by Marieke Nijkamp
*Received for an honest review*
Release Date: Jan 5, 2016
Synopsis
10:00 a.m.
The principal of Opportunity, Alabama's high school finishes her speech, welcoming the entire student body to a new semester and encouraging them to excel and achieve.
10:02 a.m.
The students get up to leave the auditorium for their next class.
10:03
The auditorium doors won't open.
10:05
Someone starts shooting.
Told over the span of 54 harrowing minutes from four different perspectives, terror reigns as one student's calculated revenge turns into the ultimate game of survival. (Goodreads)
My Thoughts
This book has touched my heart in more ways than one. I love how the story is being told by the different view points of all of those involved. This follows 6 teenager's POV and how their own lives intersect with everyone's including the shooters.
I will never understand how it is nowadays that when kids get bullied it gets to the point of suicide or school shootings. Its not always kids, its adults too. When dealing with teenagers though it seems like more and more these days they "somehow" get a hold of a gun and bring it to school.
This book is not based on any real story of a shooting here in the US or anywhere but its a great look into what goes on in the minds of the students. I always wondered what could a shooter be thinking about or what causes them to snap.
In This is Where it Ends we are introduced to Tyler Browne, the shooter. He lost his mom in an accident on her way to pick up Tyler's sister from dance class. He is so broken up about the accident and also the bulling he received at school. His thought process is what kept me reading. I felt his pain and anger. He turns that into a massive shooting on the people that have hurt him the most.
Now this book was a little confusing at the beginning trying to keep the names straight but once I really got pulled in it was easier. I also like that there is a lesbian couple in the book. I feel that people are finally letting that into literature more often. Especially in YA.
Anyways I digress….
I am thankful to Sourcebooks for sending me this book and I can't wait to see what they send me next!!
Marieke Nijkamp was born and raised in the Netherlands. A lifelong student of stories, language, and ideas, she is more or less proficient in about a dozen languages and holds degrees in philosophy, history, and medieval studies. She is a storyteller, dreamer, globe-trotter, geek.
Marieke's debut young adult novel This Is Where It Ends, a contemporary thriller that follows four teens over the course of the fifty-four minutes of a school shooting, will be published by Sourcebooks Fire in January 2016. Visit her at mariekenijkamp.com.