Yes thats right, I said Awesomesauce. Deal with it!!
Anyways in my last post I said that I had a happy announcement to share with you guys!
It all happened on Day 3 of the #BookTubeAThon and the beautiful Caz from LittleBookOwl was the host. It was the 10pm section of the sprints that night. Anyways during the sprints she had a couple of challenges and one of them was the #BTATPOEM challenge. The prize…..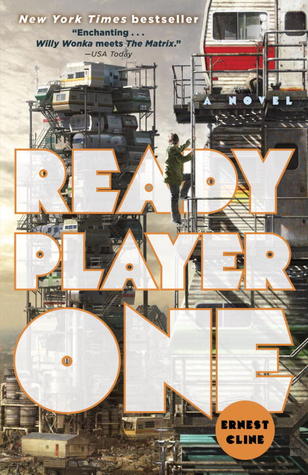 I recently bought Armada when I was in MA and I do not have a physical copy of Ready Player One. So I said so what Ill throw my hat in and see what happens.
This challenge was to take book titles and make them into a poem. It sounds hard and it was hard. I had to scourer my book shelves for the perfect books to make a kickass poem!
I ran out of my room and yelled at my husband something that came out like "Poem….Need….For….Cline." So he was no help ha ha. I turned to the man that could help me and that would be Mr. Dean Koontz. Within 2 mins I had my poem.
Wanna see???? Ok ok cool your jets.
The Husband. The Good Guy. Is Mr. Murder. Relentless and says Your Heart Belongs to Me. You…Panic.
That is my poem. We were allowed to add up to three words. For the next 15 mins I looked at everyones entries and thought to myself there is no way in hell I am gonna win.
It was getting late and I looked at my husband and say that I was gonna stay up long enough to see who one.
First reaction
Second reaction
So thank you so much Caz and Ariel for the book! I had so much fun playing and reading with you all. To the point of I am going to make some videos myself!
Share the Book Love people!!
Happy reading!!!!