I haven't been to my job at the Save the Animals Thrift Store in a little while due to the fact that I am now fostering a 2 month old Chi mix puppy. So I went in today and was very excited in the books that I found. I have over 20 but I am not gonna put them all up. Just the ones I am most excited about. I will put up a picture of all of the books on my Instagram account so you can see them all there!!!!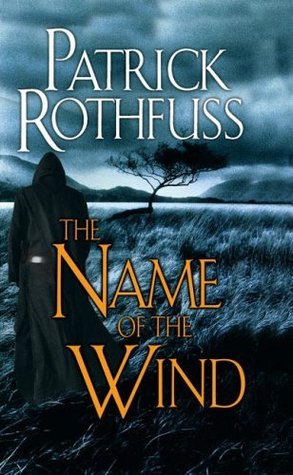 Synopsis: Told in Kvothe's own voice, this is the tale of the magically gifted young man who grows to be the most notorious wizard his world has ever seen. The intimate narrative of his childhood in a troupe of traveling players, his years spent as a near-feral orphan in a crime-ridden city, his daringly brazen yet successful bid to enter a legendary school of magic, and his life as a fugitive after the murder of a king form a gripping coming-of-age story unrivaled in recent literature. A high-action story written with a poet's hand, The Name of the Wind is a masterpiece that will transport readers into the body and mind of a wizard.
   Synopsis: Before he knew about the Roses, 16-year-old Jack lived an unremarkable life in the small Ohio town of Trinity. Only the medicine he has to take daily and the thick scar above his heart set him apart from the other high schoolers. Then one day Jack skips his medicine. Suddenly, he is stronger, fiercer, and more confident than ever before. And it feels great – until he loses control of his own strength and nearly kills another player during soccer team tryouts. Soon, Jack learns the startling truth about himself: he is Weirlind, part of an underground society of magical people who live among us. At their helm sits the feuding houses of the Red Rose and the White Rose, whose power is determined by playing The Game – a magical tournament in which each house sponsors a warrior to fight to the death. The winning house rules the Weir. As if his bizarre heritage isn't enough, Jack finds out that he's not just another member of Weirlind – he's one of the last of the warriors – at a time when both houses are scouting for a player
  Synopsis: When journalist Maureen Paschal begins the research for a new book, she has no idea that she is stepping into an ancient mystery so secret, so revolutionary, that thousands of people have killed and died for it. Two thousand years ago, Mary Magdalene hid a set of scrolls in the French Pyrenees: the Gospel of Mary Magdalene, her version of the life of Jesus and the events of the New Testament. Protected by supernatural forces, these sacred scrolls could be uncovered only by a special seeker, one who fulfills the ancient prophecy of L'Attendu – the Expected One. As Maureen becomes immersed in the mystical lore of L'Attendu, the eerie prophecy of the Expected One casts a shadow over her life and work, and a long-buried family secret comes to light. Maureen's extraordinary journey takes her from the dusty streets of Jerusalem to the cathedrals of Paris to the rocky foothills of southwest France. To search for the scrolls, she must unravel clues that link history's great artistic masters, dynasties, and scientific minds. Ultimately, she comes face-to-face with Jesus Christ, Mary Magdalene, and a love triangle that changed the course of history in a deeply moving and powerful new gospel… the greatest story never told.
  Synopsis: Maureen Paschal thought she might rest and work on her book after discovering the gospel written by Mary Magdalene that revealed Jesus and Mary Magdalene were married. The truth of their story rocked the world and made Maureen a target of those who did not like her discovery and a heroine to those who did. Then Maureen receives a strange package containing what looks like an ancient letter written in Latin and signed with a symbol. She discovers that its author is an extraordinary woman whom history has overlooked — or covered up — Countess Matilda of Tuscany, and in the letter Matilda demands the return of her "most precious books and documents." Maureen soon finds herself in a race across Italy and France, where hidden dangers await her and her lover, Berenger, as they begin to realize that they are on the trail of another explosive discovery: the Book of Love, the Gospel written in Jesus' own hand. As Maureen learns more about Matilda, an eleventhcentury warrior countess who was secretly married to a pope, she begins to see the eerie connections between herself and Matilda, connections she must trace to their source if she is to stop the wrong people from finding the Book of Love and hiding it forever. Weaving together Matilda's little-known true story and Maureen's thrilling search, "The Book of Love" follows two amazing heroines as their stories intertwine through time. Maureen is immersed in the mysteries of the labyrinth, the beautiful poetry of the Song of Songs, the world's greatest art and architecture, and Matilda's amazing legacy…until a potentially fatal encounter reveals the Book of Love to Maureen — and to the reader.
 Synopsis: Hopelessly crossed in love, a boy of half-fairy parentage leaves his mundane Victorian-English village on a quest for a fallen star in the magical realm. The star proves to be an attractive woman with a hot temper, who plunges with our hero into adventures featuring witches, the lion and the unicorn, plotting elf-lords, ships that sail the sky, magical transformations, curses whose effects rebound, binding conditions with hidden loopholes and all the rest.
 Synopsis: From the #1 New York Times bestselling author of The Other Boleyn Girl comes the final book of the extraordinary Wideacre trilogy as the heir to the great estate comes home at last.
Meridon knows she does not belong in the dirty, vagabond life of a gypsy bareback rider. The half-remembered vision of another life burns in her heart, even as her beloved sister, Dandy, risks everything for their future. Alone, Meridon follows the urgings of her dream, riding in the moonlight past the rusted gates, up the winding drive to a house, clutching the golden clasp of the necklace that was her birthright; home at last to Wideacre. The lost heir of one of England's great estates would take her place as its mistress…
 Meridon is a rich, impassioned tapestry of a young woman's journey from dreams to glittering drawing rooms and elaborate deceits, from a simple hope to a deep and fulfilling love. Set in the savage contrasts of Georgian England; a time alive with treachery, grandeur, and intrigue; Meridon is Philippa Gregory's masterwork.
There are other books but like I said I am not going to put them all up here. Go and check out my IG account and see the rest!!!! Thank you for looking at my blog!!!
(All synopsis are from Goodreads.com)